Whenever we hear the opening lyrics of the famous Broadway song "Memory" of "Cats" we would probably feel nostalgic because of the fleeting nature of life. Time flies. Only memories remain in our busy minds:
Memory
All alone in the moonlight
I can smile at the old days
I was beautiful then
I remember
A time I knew what happiness was
Let the memory live again…
What has passed will never be repeated again. Life and time unfold swiftly. If we just follow the labyrinth and race of daily life and refuse to pause and reflect for a while to know where we are actually leading to in life and why we are doing all the things that we do, we would probably miss the essentials and beauty of life.
The Chinese billionaire and founder of the global retail giant Alibaba, Jack Ma, once said: "Life is so short. Don't be so serious about work. Enjoy the lives." Although a very busy man himself, Jack Ma knows that life is more important than work, that "being is more important than doing" in life. Another saying states: "Work, but don't forget to live!" So if we are so preoccupied with work and worldly affairs and neglect to reflect on our life, we would miss appreciating the beauty and nobility of living!
Ultimately, what would probably linger in our minds during our dying moments are not our achievements, popularity, and recognition but our loving memories of people whom we have touched and loved and significant events that reminded us of the beauty of life.
What would probably make us smile as we struggle our last breath are the good old days when we felt happy that we shared our life with others and achieved our earthly goals! Like the words of the song "Memory", we can probably picture ourselves reminiscing the past all alone in the moonlight and re-live the memory and happiness we have felt with others:
Memory,
All alone in the moonlight,
I can smile at the old days,
Life was beautiful then…
I remember the time I knew what happiness was,
Let the memory live again…
What brings more happiness to our consciousness during this review of our earthly life is probably not the wealth that we have accumulated nor the fame and status that we have  achieved in life as they are part of our past material life, but the spiritual realities of joy and loving memories we have had with our loved ones, with people we sincerely helped, and with our God.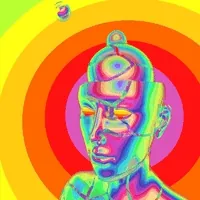 We can then smile that we live our lives as we like it to be or frown for not living a "good" life as our God wants it to be. Steve Jobs, the co-founder of Apple, who has achieved the pinnacle of success in the business world allegedly mentioned during his dying moments that what matters most in life is not wealth which can turn a person into a "twisted being" but matters unrelated to wealth and memories precipitated by love:
… In the darkness, I look at the green
lights from the life-supporting
machines and hear the humming
mechanical sounds, I can feel the 
breath of god of death drawing
closer…
Now I know, when we have
accumulated sufficient wealth to last
our lifetime, we should pursue other
matters that are unrelated to wealth…
Should be something that is more
important:
Perhaps relationships, perhaps art,
perhaps a dream from younger days.
Non-stop pursuing of wealth will only
turn a person into a twisted being, just
like me.
God gave us the sense to let us feel
the love in everyone's heart, not the
illusions brought about by wealth.
The wealth I have won in my life I
cannot bring with me. What I can bring
is only the memories precipitated by love.
Whether these words were indeed uttered by Jobs or not, they nevertheless contain wisdom and insight on the limits of our physicality and material happiness. Indeed, memories precipitated by love can make us smile and happy while we review our life script at the end of our lives: A scholar or scientist who spent hours of research and writing to sincerely help humanity advance in knowledge and solve some of life's problems and saw people smiling because his/her works and findings cured their disease or helped them see the world closer to the truth; the joy of a mother seeing her baby smiling at  her; the happiness of seeing the glowing face of a dying homeless person who silently say "thank you" in his/her last breath because we have given him/her comfort and care; the consolation of a religious encountering his/her God in prayer; the inner joy a person who stood his/her ground against a tyrant regime for sake of the truth and justice; or the inspiration of the countless unsung heroes who offered their lives for sake of their country, ideology, religion, and social reform. Indeed, what is essential is invisible to the eye. We can sometimes totally influenced by material accumulation. We sometimes take for granted or sideline the spiritual side of life which can provide us lasting happiness and spiritual joy.
Photo Credit (except the quote from http://www.kingjamesbiblbeonline.org): Pixabay.com
Thank you for reading this post. Sign up with our newsletter or follow this blog via email for more updates.